Professional Architectural Designing Using V-ray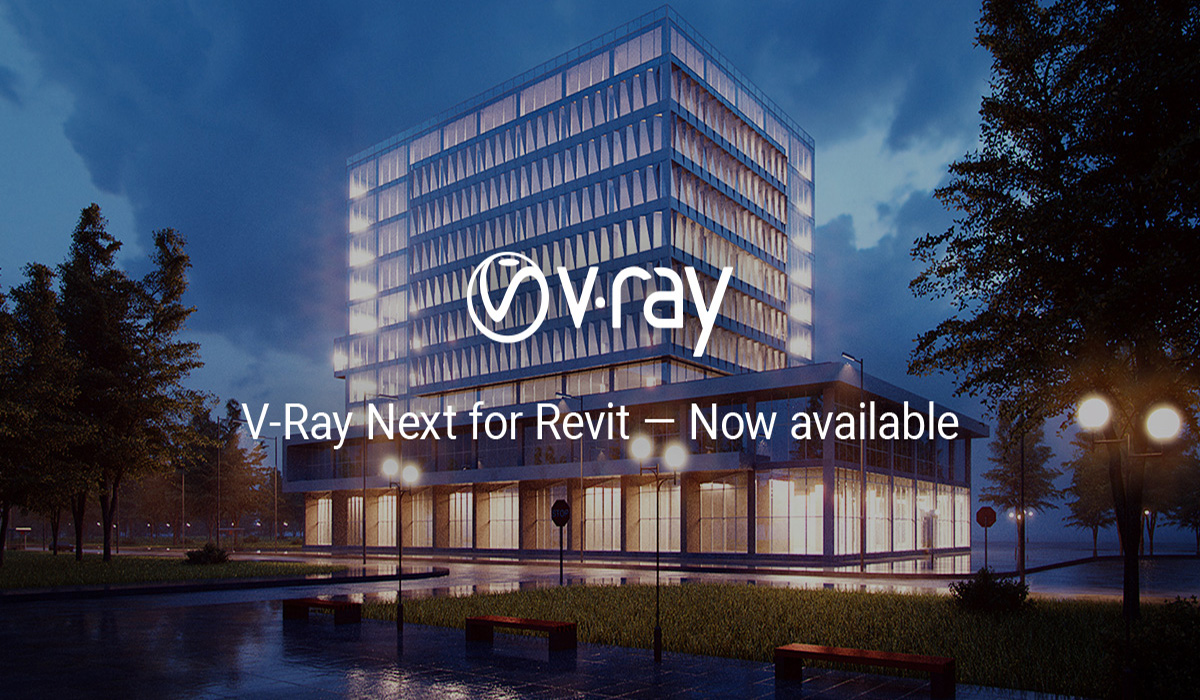 Winner Design Solution's SketchUp 2022 training course teaches you how to create a home from scratch using this popular 3D modelling application. This lesson is intended for complete beginners, therefore no prior knowledge of SketchUP or 3D modelling is necessary.
By the completion of this computer based training course, you will be comfortable using many of the basic and complex tools in SketchUp. Working files are included, allowing you to follow along with the author throughout the lessons.
Professional Architectural Designing Using V-ray
| Batch Start's On | Course Duration | Format |
| --- | --- | --- |
| Every Monday | 80 hrs. | online/offline |
Curriculum

Session 01

Introduction to V Ray Course

Session 02

Looking Around In 3ds Max
The Fundamentals of Modeling
Modeling The Building

Session 03

Adding a Camera
Adding Lights

Session 04

Rendering With Vray
Adding Materials

Session 05

Modeling Surroundings
Setting Up For Final Rendering

Session 06

Post-Processing The Rendering

Session 07

Let's Put Your PRO Skills Into Practice
PRACTICE: Photo Real Interior Scene
PRACTICE I: Exterior Scene Using Latest Software Updates

Session 08

PRACTICE II: Advanced Modeling Considerations for Large Scenes
Advanced Classes & Project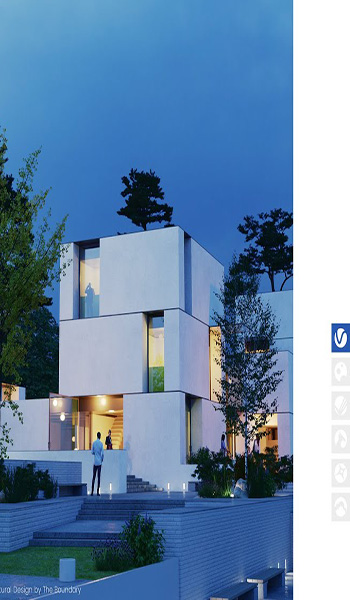 Lifetime access to which has class presentations, quizzes, installation guide & class recordings.
Lifetime access to our 24x7 online support team who will resolve all your technical queries.
Successful completion of the final project will get you certified as a Professional Architectural Designing Using V-ray
Access to the global community forum for all our users that further facilitates learning through peer interaction and knowledge
Instructor
Nitheesh Kumar Reddy C
Sr.Architect
Winner Design Solutions LLP's Founder and CEO, Nitheesh Reddy, has over 6 years of expertise in the AEC business. He has worked on a number of projects, including BIAL and SCR. He also worked on BIM, structural, interior, and transportation design technology. only 5 small workspace interiors around the world and we are among them! Feeling so powerful to break the boundaries and build new design.
Professional Architectural Designing Using V-ray for Civil Archietects Course Certification
Get Yours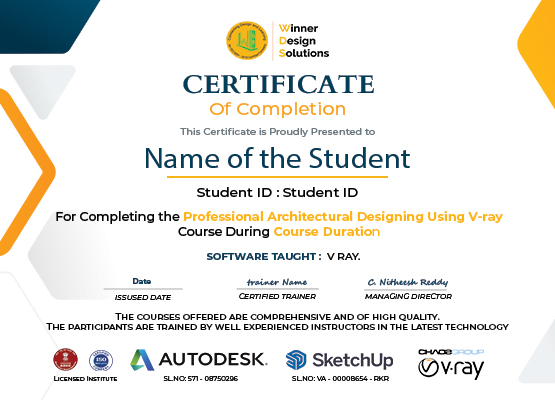 One of my friend recommended Winner Design Solutions LLP.I have joined for Architectural Interior Design combo courses . Teaching is good , individual attention is given . This is one of best career building platform where they teach everything work and company requirements related , placement assistance is also provided. Best Choice to Enhance your skills in a right way. Bangalore Best Training Institute for your Bright Future. I would recommend Winner Design Solutions for Everyone.
★★★★★
Vishwanath Raju
- Junior Archietect
I am Marudu from GRTIE college, Tamil Nadu, I found this institute through google, and I have done my revit , sketchup , v- ray, Enscape courses with good knowledge by friendly teaching environment here. Best Place to Learn Designing courses to the Professional Level with 100% Placement Assistance.
★★★★★
Marudu pandi
- Civil Engineer
I wholeheartedly endorse Winner Design Solutions. He is a highly competent specialist in the subject; he is gentle with kids and understands the learning process well. He speaks in a clear and succinct manner that is simple to follow and comprehend. As a nonnative English speaker, I couldn't be happier with the time and attention I received, as well as the clear, eloquent, and focused teaching.
★★★★★
Prakash D
- Junior Archietect
Reviews
Professional Architectural Designing Using V-ray
Design professionals who want to learn 3D, Architecture students, SketchUp users looking to advance their skill set.
If I have questions during the course how do I reach you?
You can email or call your tutor directly, I (Tammy) am happy to answer any questions. It helps if you attach the file to the email so that we can click around and help you faster.